LED-468R-A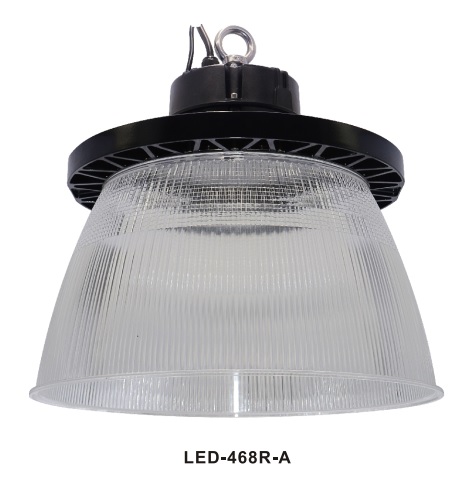 A unique feature is the quick disconnected cable, it can quickly seperate the driver from the LED module for easy maintenance. The unit has built-in heat sink and comes with a hook made of die-cast aluminum for a strong and easy installation.

-UL and CUL listed for damp locations
-Superior heavy duty die cast aluminum construction
-Heat and impact resistant tempered glass

Features:
-Driver for east installation and replacement.
-Heavy-duty one complete piece die cast proivdes maximum heat dissipation.
Cooling Fins are added to increase the ambience temperature to 500C standard.
-New Generation LED Chips inside, cover with Round Elegant clear tempered glass.
-Options available with Aircraft Spun Aluminum Powder painted white or PMMA reflector.
-Optional Clamp Band and Flat Glass / Optional Clamp Band and AL Reflector / Optional Clamp Band and PMMA Reflector
-Options with 347V with adder.

Download Datasheet

Model Number

LED-468R-A(120W)

LED-468R-A(160W)

LED-468R-A(200W)

System Wattage

120W

160W

200W

Delivered Lumens (Lms.)

15391 lm**

22204 lm**

25000 lm**

Efficacy (Lm/W)

128 lm/w

138 lm/w

125 lm/w

Color Rendering Index (CRI)

80+

Color Temperature (CCT)

4000K / 5000K

Input Voltage

120-277V

Dimensions (Inches)

16.2" x 16.2"x 16" inches

Dist. Type

Type VS

Weight (kg / lb)
6.75 kg / 14.86 lb

Model
Number
System
Wattage

Voltage

CCT

Electrical

Housing
Finish

Mounting

LED-468R-A (120W)

120W

120-277V
347V**
5000K
CUSTOM**

Photo control**

BLACK
CUSTOM**

die-cast Hook

LED-468R-A (160W)

160W

LED-468R-A (200W)

200W

**Optional with adder
*Different LED Kelvin temperature available with 5-6 week lead time. Please call for quote.
**Disclaimer: This test report was produced in accordance with IES LM-79 photometric testing protocol for luminaires, using a single representative test fixture.
Actual production units may vary from the values reported here by up to +/-10%.