LED-8500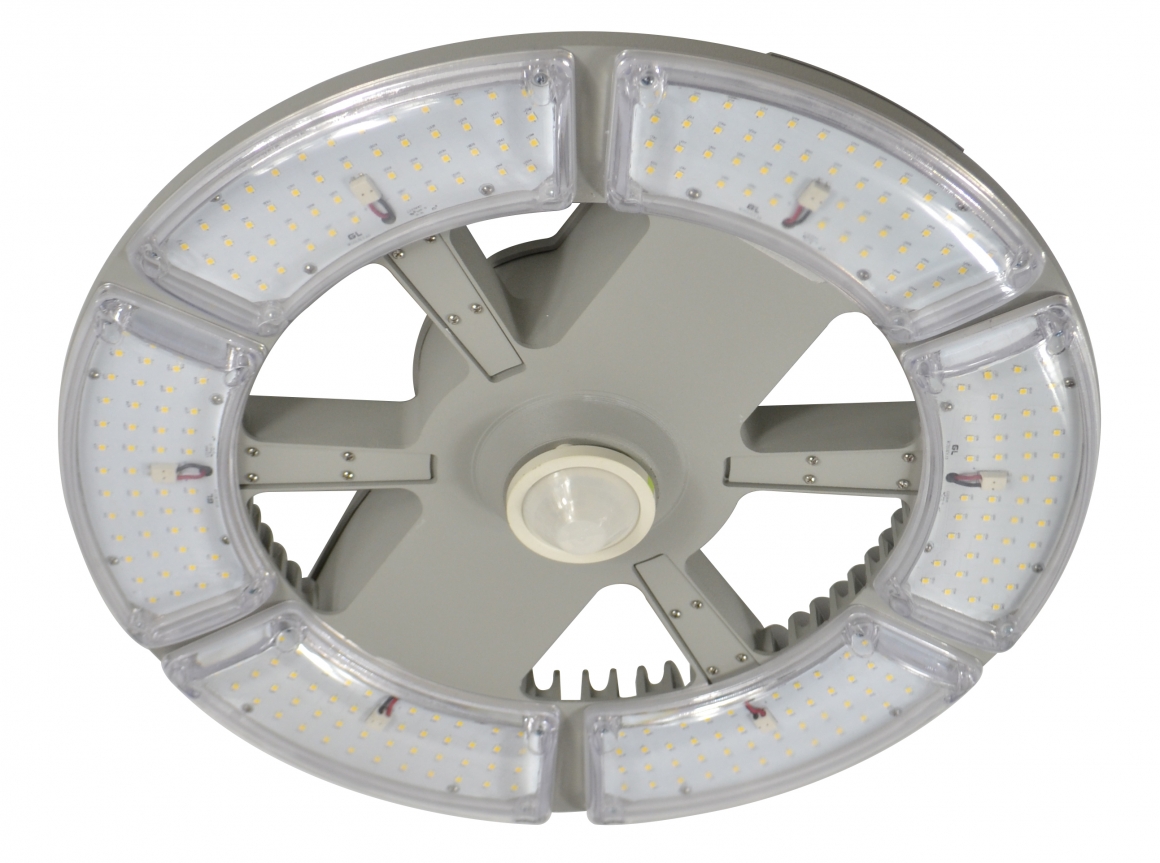 A unique feature for this fixture is the quick disconnected cable.
It can quickly seperate the driver from the LED module for easy maintenance.
The unit has built-in heatsink and comes with a hook made of die-cast aluminum for a strong and easy installation

FEATURES:
-New UFO! Highbay.
-UL and CUL listed for wet locations.
-UV stabilized powder coated finish.
-High impact polycarbonate frosted lens.
-DLC Premium listed.
-IP65.
-Bi-Level Occupancy Sensor Optional.
-Finish: White / Bronze.

PRODUCT:
-Heavy-Duty one complete piece die-cast provides maximum heat dissipation.
-Cooling Fins are added to increase the ambience temperature to 50゚C standard.
-Die-Cast Hook is standard with the unit, saving time and money for the end customer.
-Pedant mounting option is also available, making the fixture more versatile.
-Standard SE cable is included with the unit and provides the contractor with ease of installtion.
-Bi-Level Occupancy sensor not only offers energy saving, but provide security to your warehouse as well.
-Unique designed prismatic lens provides ideal lighting coverage and minimum glare.


Download Datasheet

Model Number

LED-8500-L240

LED-8500-L336

LED-8500-L432

System Wattage

150W

191W

212W

Delivered Lumens (Lms.)

19113 lm**

24615 lm**

27679 lm**

Efficacy (Lm/W)

126 lm/w

129 lm/w

130 lm/w

Color Rendering Index (CRI)

70+

Dist. Type

Type VS

Color Temperature (CCT)

4000K / 5000K

Input Voltage

120~277V

MA

93 MA

88 MA

78 MA

Equivalent

250-400W MH

400W MH

1000W MH

Dimensions (Inches)

18" * 18" * 7.74" inches

Weight (kgs / lb)
7.72 kgs / 17 lb

Model
Number
System
Wattage

Voltage

CCT

Electrical

Housing
Finish

Mounting

LED-8500

150W




120-277V



4000K
5000K
CUSTOM**
Occupancy Sensor**
10KV Surge**
Bronze/White
CUSTOM**



Die-cast Hook




191W

212W

**Optional with adder
*Different LED Kelvin temperature available with 5-6 week lead time. Please call for quote.
**Disclaimer: This test report was produced in accordance with IES LM-79 photometric testing protocol for luminaires, using a single representative test fixture.
Actual production units may vary from the values reported here by up to +/-10%.