LED-2080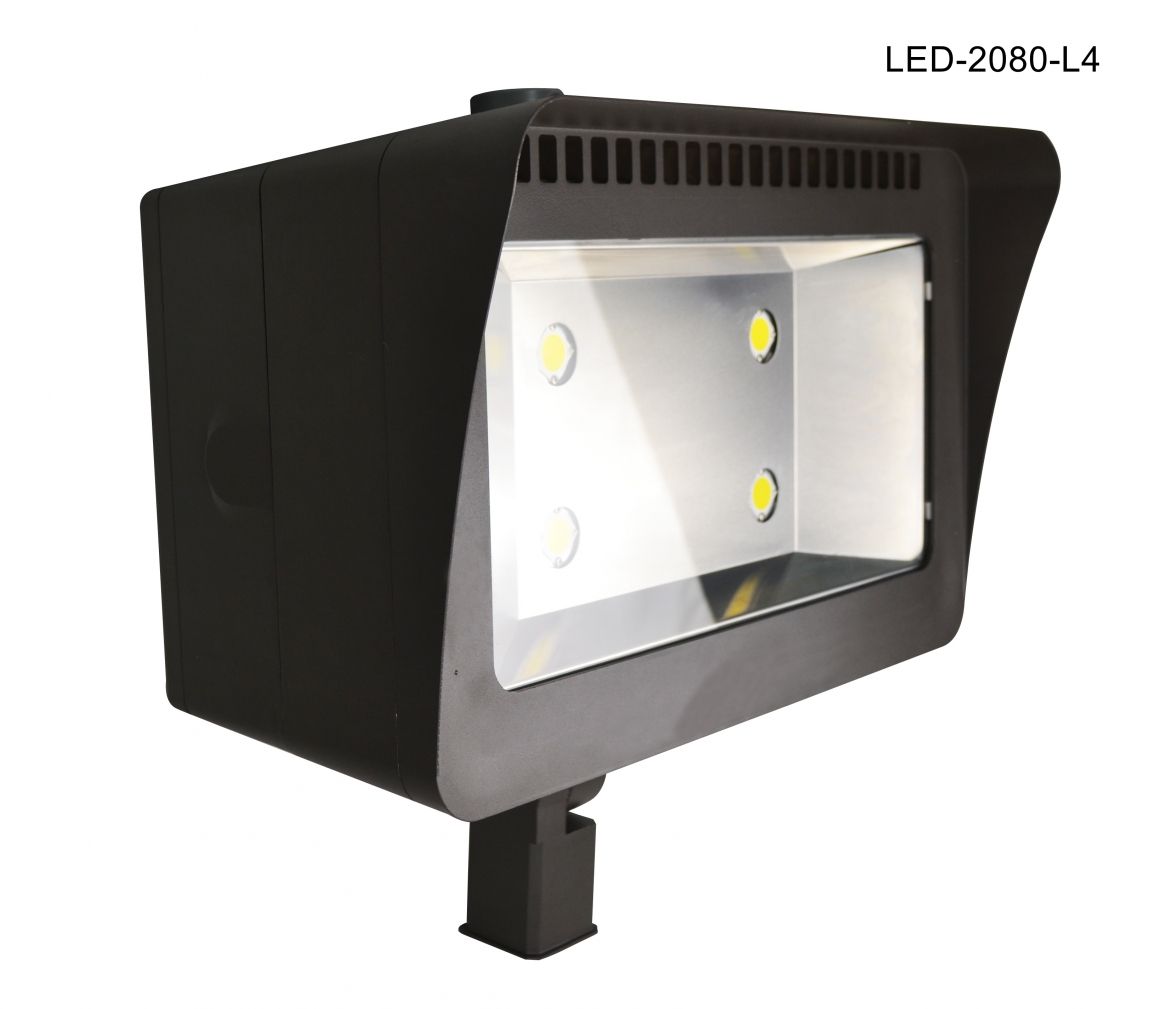 The LED-2080 is a powerful luminaire that has been designed to meet a wide variety of locations.
With the various mounting options it can be used as a flood light or as an area light.
With the LEDs mounted on the large heatsinks, the fixture can maintain a high lumen output while keeping the LED modules at a cool temperature.

​-UL and CUL listed for wet locations.
-Heavy duty die-cast aluminum powder coating, corrosion resistant hardware.
-UV stabilized powder coated finish.
-Heat and impact resistant tempered glass.
-Optional 347V with adder.
-Optoinal surge protector 10kV with adder.
-Optional NEMA photo control with adder.
-N3 = NEMA 3 (Wide distribution)
-N5 = NEMA 5
-N7 = NEMA 7 (Narrow distribution)
-Finish: Bronze. Color option with adder.
-Mounting Options:
Slip Fitter
Trunnion
U-Bracket

Download Datasheet

Model Number
LED-2080-L4
LED-2080-L6
System Wattage
336W
408W
Delivered Lumens (Lms.)
40675 lm**
48501 lm**
Efficacy (Lm/W)
121 lm/w
119 lm/w
Color Rendering Index (CRI)
70+
Color Temperature (CCT)
4000K~5000K
Input Voltage
120~277V
MA
1480 MA
1150 MA
Equivalent
1000W MH
1500W MH
Dimensions (Inches)
23.1"x14.6"x22.1" inches

Model
Number
System
Wattage

Distribution

Voltage

CCT

Housing
Finish

Mounting

Electrical

LED-2080-L4
LED-2080-L6
336W
408W
NEMA 3 (3x3)**
NEMA 5(5x5)**
NEMA 7 (7x7)**
120-277V
347V**
5000K
CUSTOM**
Bronze
Black**​
CUSTOM**
U-Bracket**
Trunnion**
Slip Fitter**
NEMA photo control**
Surge protector 10K**


**Optional with adder
*Different LED Kelvin temperature available with 5-6 week lead time. Please call for quote.
**Disclaimer: This test report was produced in accordance with IES LM-79 photometric testing protocol for luminaires, using a single representative test fixture.
Actual production units may vary from the values reported here by up to +/-10%.